Vasectomy Reversal Success Stories
Read Reviews, Ratings & Testimonials for Dr. Martin Bastuba and MFS
Since 1993 Dr. Bastuba and the staff of Male Fertility & Sexual Medicine Specialists have provided care to patients from around the world, performing over 5,000 microsurgeries. The success rates for vasectomy and vasectomy reversal procedures at MFS are extraordinarily high, and the quality of care is reflected in the countless letters and notes received from friends, patients and colleagues.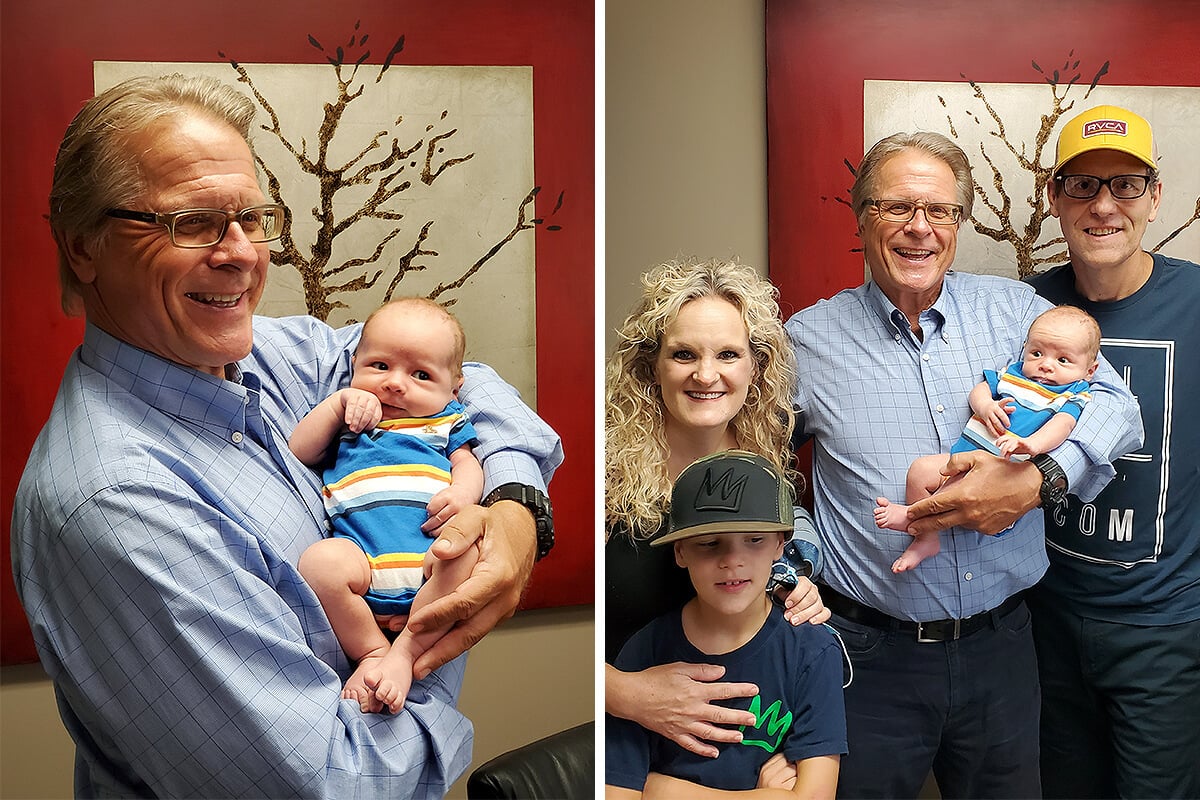 Dr. Bastuba with the Woodhall family, including baby T. who was born two years after a vasectomy reversal performed by Dr. Bastuba.
Dr. Bastuba and staff, My husband, D.D., had a vasectomy reversal with you on March 15th, 2018. We waited 21 days before trying to conceive. We had our first SA (semen analysis) on May 31st, with results of 56 million sperm with a 71% motility rate. We are happy to share that on Friday, June 29th, we received a positive pregnancy test. I've taken four tests since then, and all were positive. And, my bloodwork at the doctor today confirmed that I am pregnant! We want to thank you for your amazing work! This will be my first child and my husband's third. I am beyond excited to be a mother. Thank you so much!
Hello, I just wanted to share a success story. I had my vasectomy reversal in May 2017, we got pregnant in September, and just had a beautiful baby girl 6/21. Thanks to Dr. Bastuba and everyone there.
I just saw that it was the anniversary of my vasectomy reversal procedure, and I couldn't be more excited to say that my wife is about 10 weeks pregnant. We have been longing for this moment and this feeling again, and Dr. Bastuba and all of the staff made it possible for us. We couldn't be happier, and we would like to express our gratitude for all you've done for our family. Thank you all so very much. - R. & V.
Thank you so much for playing such a vital role in the expansion of our family. My wife gave birth to our son, K.C., on November 11th, 2014. Our little miracle is a direct reflection of your hard work and dedication to success.
Dear Dr. Bastuba, I'm are writing you to thank you for the excellent job you did on my reversal. My wife and I had a girl and a boy who were 9 and 7 when we decided to expand our family with another child. The one problem was, that after the second child I thought we should be done and I got a vasectomy. After years of wanting another child my wife won and my desire to have one more child became real when I found myself down in San Diego in Dr. Bastuba's office for the consultation the day before the procedure. I'm delighted to say that the procedure was very successful and 3-1/2 years ago my wife gave birth to our second son. We thought we were done but God gave us a second blessing 2 weeks ago with the birth of our 4th child (the second after my reversal), a baby girl. She was a true surprise but a blessing from God! I'm not sure if Dr. Bastuba put in a turbo charger in when he did the reversal or what, but my wife will now need to look into some form(s) of contraception going forward knowing now that Dr Bastuba is very good at getting the fluids flowing again. Thank you Dr Bastuba & staff for giving us two additional wonderful children.
Dear Dr. Bastuba, Not only were we successful in having our baby after a vasectomy reversal, but the entire experience was uplifting from the positive spirits helping us along the way to the comforting approach Marty takes in communicating everything about the procedure and specific details of our situation. We are forever grateful and would recommend him to you in a heartbeat!
Dear Dr. Bastuba, I had a vasectomy when I was too young to know better, and after an 8 year marriage....got divorced. I remarried and had a reversal attempted. The reversal was unsuccessful and my wife and I were attempting to deal with the fact that we might not have children of our own. After researching many doctors and doing my homework, I felt convinced that traveling to San Diego to have Dr. Bastuba attempt to reverse 'course', was the right thing to do... so we made the trip. It was approximately 60 days after my surgery that we found out my wife was pregnant! Several years and 3 beautiful girls later we have decided our family is complete! GOD works miracles and in this instance, he used Dr. Bastuba's mind and hands to bring 3 new lives into this world.
Dear Dr. Bastuba, I'm so happy to be writing this letter to you. We got pregnant two and a half years after our vasectomy reversal. We were actively trying for a long time and when we gave up trying, it happened!?! We are so overjoyed with our miracle baby. Jagger is six months old now, and he is quite a handful, but soo sweet. We are overjoyed and so grateful. His big sister, age 7, and brother, age 9, are over the moon as well with our blessing. Thank you!!!
Dear Dr. Bastuba, I meant to write long ago, but my life has been very busy thanks to Dr. Bastuba. My husband had a vasectomy reversal back in June of 2009 and even though I knew Dr. Bastuba's success rates were high, I never imagined that I would become pregnant only 3 months after the surgery! Not only that, we got the girl we dreamed about! She is 16 months old now and just perfect. This would have never been possible without Dr. Bastuba. You are blessed with a wonderful gift, and we thank you from the bottom of our hearts.
Dear Dr. Bastuba, You performed a vasectomy reversal surgery on me. This was nearly 10 years after my original vasectomy. I always knew there was a chance that the procedure might not be successful, within 2 months of starting to try to have a baby my wife became pregnant. It was a shock to us at how fast it happened... our life will never be the same. We owe our new family to your skills as a physician and surgeon. Thank you again! - Dominick S.
Dear Dr. Bastuba, I just wanted to send along our many thanks. My wife is happy to be off oral contraceptives and our level of intimacy has never been better. The no-scalpel vasectomy technique was quick and virtually pain free. I chose you because of your extensive experience and reputation and you didn't disappoint. I now feel very comfortable referring my patients for any male fertility concerns. Again, thanks from both of us. - JRH, M.D.
Dear Dr. Bastuba, Seasons Greetings! Thanks for all you've done for us. You are still on our gratitude list! Best wishes for a happy new year! - Aloha, Mariam, Don, Jonathan & Christian
Dr. Bastuba, Just wanted to say thank you for your skill and expertise….give yourself a pat on the back for a job well done for us. You truly are awesome! Thanks again!
Dr. Bastuba performed my vasectomy reversal in late July 2009; I wanted to give an update on the results. We are VERY pleased! My wife took birth control for a few months after the reversal, so I couldn't tell you exactly how quick I was fertile, but within 2 weeks from stopping birth control she was pregnant. The baby is due August 19th, 2010. - Thanks, S. M.
Dear Dr. Bastuba, Bill and I would like to thank you for everything… We think of you often, and how lucky we were to have had such a wonderful Doctor. We hope that everything is going well for you. We will never forget you and how you helped make our very special wish come true. Thanks again. - Love, Joann, Bill and Matthew
Dear Dr. Bastuba, You did a vasectomy reversal in November 2006. Nearly 25 years after my husband's vasectomy, we welcomed our son into this world. He was born June 26, 2008, 10:50pm, 8lbs., 3oz., 22 inches. Thank you!
Dear Dr. Bastuba, We are so pleased to introduce you to our son Benjamin! Without your expert hands, we would not have been able to have our own biological child. Thank you so much! He's absolutely beautiful & perfect in every way.
Dr. Bastuba, My wife and I want to thank you so much!!!! On the 14th of this month we had our second beautiful baby girl. 4 years ago you had performed a vasectomy reversal on me! Thank you all again.
Dear Dr. Bastuba, We are writing you with some good news. You did my husband's vasectomy reversal 01/11/08 and on 06/06/08 we found out that we are pregnant. I'm still in shock, although my husband knew the whole time it was going to work. He said he could tell when we first met you and your level of confidence he just knew you knew what you were doing. It's still early in the pregnancy but we will keep you updated. We thank you from the bottom of our hearts. This is truly a dream come true and I hope you know how much we appreciate you and your staff. - Love, T & C.
Male Fertility & Sexual Medicine Specialists, I just had the vasectomy reversal surgery by you late October 08. Found out March 12 08 that my wife is now pregnant. Great job guys, we were very surprised that the reversal procedure would be so effective so soon! Amazing work, thanks again. This was the easiest surgical procedure I could have asked for. Expert care and great results far sooner than expected.
Dr. Bastuba, They said it wasn't possible - but here's proof! Words cannot express our thanks & gratitude! We do thank you for your passionate work - We are overjoyed at the result! Reversal after 20 years?!! - WOW!! God bless you! - The K. Family
Dr. Bastuba, The gift God has given to you helped make the birth of our son possible. Thanks for the successful vasectomy reversal procedure. We hope you and your family have a blessed New Year!
Dr. Bastuba, Hola! doctor le escribimos mi esposo y yo para darle las gracias por la operacion que le hizo a mi esposo en agosto del 2007 y apesar de que el se practico su vasetomia hace 15 años, despues de que usted le hizo reversar su vasetomia a los 5 meses pudimos encargar una nina y ahora tengo 4 meses y medio (18 semanas) y esta programada que nacera en octubre 22 2008. Muchas gracias por hacer suenos realidad. - Marcela
Thanks to all of you! Especially, Dr. Bastuba! I now aged 58 years old, had a series of vasectomies and vasovasostomies (forgive the spelling) which culminated with a final vasectomy in August of 1982. Subsequently, I had difficulties with epididymitis. I was sure that over 25 years sterile with complications of damage to my epididymis would render me unable to benefit from any surgery to reverse the sterility. However, after careful research on the Internet, I became aware of Dr. Bastuba's renown in the field of male fertility. We saw Dr. Bastuba for a bi-lateral vasoepididymostomy in March 2007. After the operation, you may recall my anxious "Bill Nye, the science guy" calls to you regarding sperm count if we were using a 1200X microscope to check my semen. While I was surprised to see sperm in my semen after just 60 days I remained skeptical that the count would ever return to a level that would result in a pregnancy. We monitored my wife's ovulations carefully with ovulation kits. We studied films on pregnancy (most notably, "The Miracle of Life"). We tried to get pregnant thinking it would be very difficult. My wife's last period started July 26. Her "LH surge" occurred late on August 8 through early August 9. Her first "home pregnancy test" on August 25 read positive. A second test on August 26 read positive. We contacted her OBGYN for an appointment. Her doctor's midwife accepted the two home pregnancy test results as confirmation of the pregnancy. We were scheduled for an ultrasound on September 13. The ultrasound test revealed a heart beat for our viewing amazement. The measurements of the fetus confirm the math: the baby is due around May 4, 2008! We are two months pregnant! I still cannot believe it. My wife is beaming with smiles. We are delighted. I don't know what else we can say except again, thank you very much! - J & A.
Dear Dr. Bastuba, There is so much for us to be thankful for this holiday season. We really don't know how to adequately express our appreciation for all that you've done for us. In part, because of your help, our daughter Emilee arrived September 12th. She has brought so much happiness and fun into our lives, much more than we ever imagined. We never thought we could love anything or anyone so completely and so quickly. We would like to wish you and your staff a most wonderful holiday and thank you again from the bottom of our hearts for helping us have Emilee, our precious little baby. - A. F.
Dear Dr. Marty, I can't begin to "Thank" you for all your help and guidance you gave us through the decision process of having my vasectomy reversed. I'm glad that we looked at all options and decided to go with the vasectomy reversal! Since January 23, we are proud parents of a little baby boy, Robert James. Everything went so quickly after the reversal! Thank you - from the bottom of my heart to you and your staff. You are all very special people! M.S.
Hello Dr. Bastuba, Thank you so much for all that you have done for us. With one afternoon you changed our lives. Yesterday, I found out that we are expecting! Words cannot express the gratitude we feel for you and your staff. Everyone was so friendly and knowledgeable. If only we had come to you earlier! We recommend you to all our friends who are also baby-making challenged! You are the best male fertility doctor in San Diego. We will stay in touch and send more photos later. THANK YOU! - J.C.
Dear Dr. Bastuba, My husband and I came to you to have his reversal surgery done last September. We were not considering that for a long time since we heard from another doctor that the chances for success were very low after a vasectomy 21 years prior. After the vasectomy, we expected to wait for six to 12 months before anything would happen. However, in just short of 4 months we got a surprise! We are pregnant! We are so blessed and we can't thank you enough. 21 years after vasectomy! We will send photos after the baby's arrival. From the bottom of our hearts we thank you! - I.R.
Dear Dr. Bastuba, I want to thank you for taking such good care of my husband. We met right before you conducted his reversal. After you and I met, all my anxieties were relieved and I knew you were the right doctor for the job. I thank you, too, for your care and patience with me, answering all my questions and allaying my fears. - T.C.
Dr. Bastuba, You did my husband's reversal surgery in November, and by July, thanks to you and the Lord, our prayers and dreams were answered. On a beautiful day in January, Casey blessed us with his arrival. 5 lbs. 3 oz. and 19 inches long into this world he came. I don't know if you hear it enough, but thank you for being so good at your job. - Michael, Amy and Casey