Timeframe for Getting Pregnant After a Vasectomy Reversal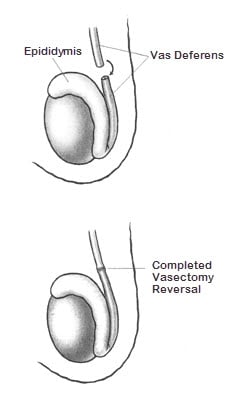 Wanting to father a child after a vasectomy is not uncommon. Approximately 50,000 men undergo vasectomy reversal each year in the United States. Vasectomy reversal is typically a more cost effective and less invasive way to get pregnant, when compared to the alternative sperm retrieval and in vitro fertilization (IVF) techniques. Vasectomy reversal surgery also has a high success rate, making it an attractive option for achieving pregnancy if you have had a vasectomy.
Return of Sperm to Semen After Reversal
However, there are a few considerations you and your partner need take into account when trying to get pregnant after a vasectomy reversal surgery. During the reversal surgery the vas deferens, a tube which brings sperm from the testicle to the urethra, is reconnected allowing semen to be released during intercourse. After the surgery, it can take as little as a few weeks to several months for your sperm to return to the semen, and have a healthy sperm count. While some of our patients have become pregnant within just a few months of their vasectomy reversal surgery, everyone couple is different. The male's sperm count and quality will be tested regularly until it is confirmed the sperm has returned to levels high enough to achieve pregnancy.
Other Factors Influencing Conception
In addition to the health of the male's sperm, there are other factors that affect a couple's chances of conceiving a child, such as the female partner's age. Women's fertility gradually begins to decline after the age of 30. A steeper drop in fertility occurs after the age of 35, making it more and more difficult to get pregnant each year thereafter. If your partner's fertility is a concern, you might need to consider alternative methods to vasectomy reversal to achieve pregnancy, such as sperm retrieval and IVF.
"After researching many doctors and doing my homework, I felt convinced that traveling to San Diego to have Dr. Bastuba attempt to reverse 'course' [reverse my vasectomy], was the right thing to do... so we made the trip. It was approximately 60 days after my surgery that we found out my wife was pregnant! Several years and 3 beautiful girls later we have decided our family is complete!"
Learn more about vasectomy reversal surgery.