Dr. Martin Bastuba Celebrates 25th Year of Practicing Medicine in San Diego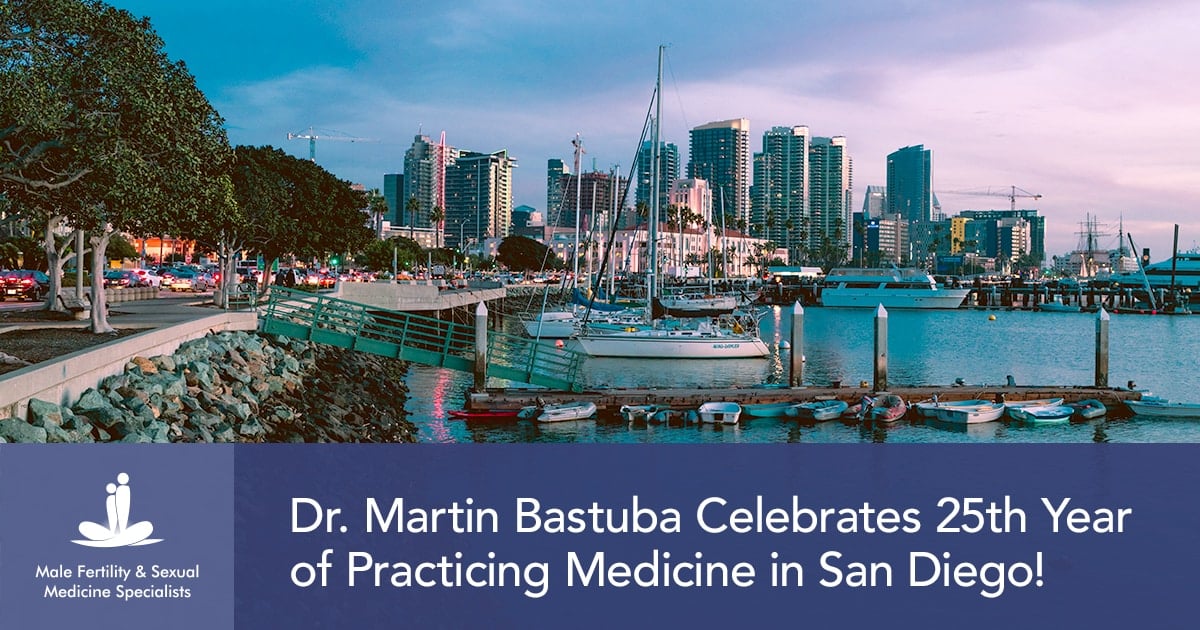 Dr. Martin Bastuba is celebrating his 25th anniversary practicing medicine in San Diego, where he treats male infertility and sexual dysfunction. Dr. Bastuba started his male fertility practice in 1993, the Male Fertility & Sexual Medicine Specialists, upon completion of his fellowship training at Boston University. In the years since, Dr. Bastuba is now set apart from other physicians through his high vasectomy reversal success rates.
Since moving west with his wife to San Diego in 1993, Dr. Bastuba has primarily focused on clinical treatment by consistently learning new techniques as well as bringing cutting-edge technology within his patient care. He has appeared as a featured expert on The Roni Deutch talk radio show, and has recently established a relationship with the United States Navy in order to train urology residents to further the treatment of infertility and sexual dysfunction within America's armed forces.
Dr. Bastuba is frequently sought to perform a vasectomy reversal on patients whose first reversal was unsuccessful. Recently, he even developed a minimally invasive technique of sperm extraction for patients that have obstructed azoospermia. This allows the patient to avoid open surgery, but can still pursue in vitro fertilization (IVF). Dr. Bastuba is also frequently sought to help treat infertility in the face of cancer treatment, spinal cord injury, LGBT family building, female patients with PCOS, and post-mortem sperm retrievals.
Through the Male Fertility & Sexual Medicine Specialists, Dr. Bastuba has helped alleviate sexual dysfunction for thousands of couples in Southern California and surrounding states. Dr. Bastuba also runs a cryopreservation center, the Fertility Center of California, which provides andrology services, female fertility services, an anonymous sperm donor bank, and a reproductive tissues storage facility. Through the Fertility Center of California, Dr. Bastuba has helped thousands of patients in San Diego and around the world realize their dreams of having a child.
Prior to attending medical school, his family dentist actually played a significant role in encouraging Dr. Bastuba to attain a professional degree. Once in medical school, he considered pursuing emergency medicine, but after completing a surgical rotation, he knew that surgery best suited his personality.
Furthermore, his urology rotation solidified that subspecialty as an ideal professional path forward. It was during his urology residency that he further narrowed down his choice of subspecialty when he experienced the ultimate challenge of microsurgery: a vasectomy reversal.
Dr. Bastuba gains deep satisfaction by helping couples to overcome two of the major quality of life issues for couples: healthy babies and a healthy sexual relationship. He has dedicated his career to helping couples with important quality of life challenges. Outside of work, Dr. Bastuba enjoys spending time with his wife and three boys. He also plays the drums for a local classic rock band, The Retro Rocketts.
We invite you to learn more about Dr. Bastuba's 25 years of medicine in San Diego. Or, you can also contact Dr. Bastuba and his team to schedule an appointment today.
About the Male Fertility & Sexual Medicine Specialists
Male Fertility & Sexual Medicine Specialists provides diagnosis and treatment for male infertility conditions and sexual dysfunction in San Diego, California. The practice was founded in 1993 by Dr. Martin Bastuba, MD, FACS. As a board-certified urologist and international leader in the field of vasectomy reversal, Dr. Bastuba is specially trained in the diagnosis and treatment of male fertility and sexual health. Patients from around the world choose Male Fertility & Sexual Medicine Specialists for superior medical technology, advanced surgical techniques, and excellent patient success rates.
You can view the press release in its original form here.